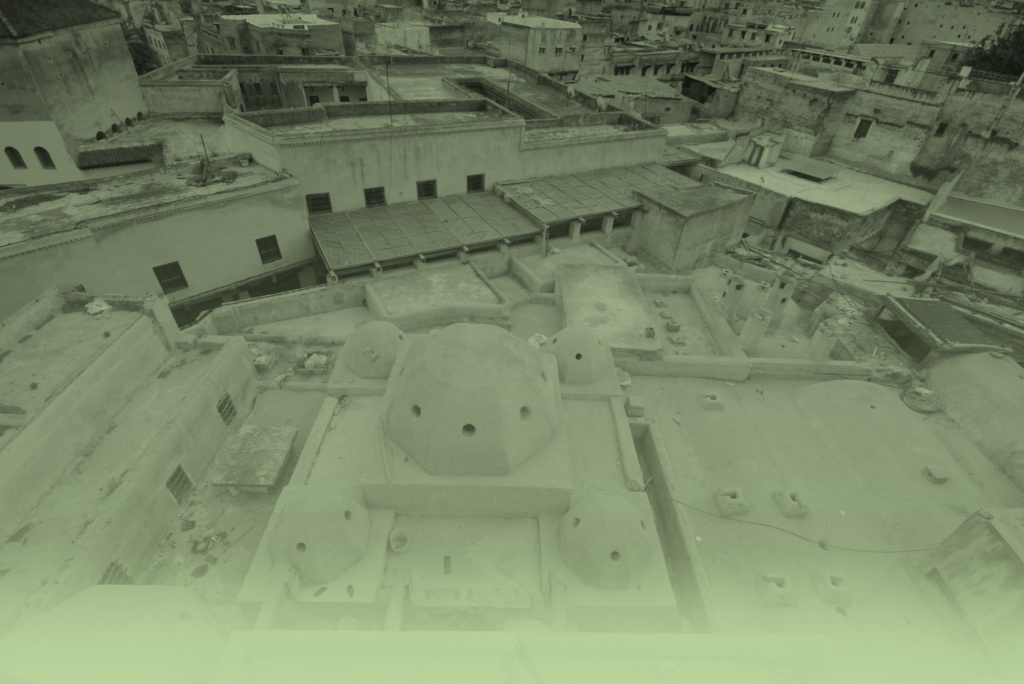 This impact and engagement project responds to novel developments, relevant to a previous AHRC funded project (AH/D503019/1) during which the open historic public bathhouses (hammams) of many North African heritage cities were surveyed and documented. This previous research highlighted the crucial role of heritage hammams in the Maghreb historic cities in providing affordable hygiene and wellbeing services for the less wealthy. However, new challenges theaten their survival today, among which the increased costs of fuel (wood or diesel) and water. Specifically, this project tackles new issues emerged during the UN climate change conference COP22, held in Marrakech in 2016, when Moroccan hammams were presented as major contributors to air pollution, deforestation, loss of ecosystems, as well as to high water consumption and wastage.
It was estimated at COP22 that Morocco has at least 12,000 hammams, operating with wood burning vernacular furnaces. Since each hammam consumes on average 1.5 tonnes of wood and between 60 to 120 cubic meter of water per day, their accumulated environmental impact is not negligible. Besides being the country where the largest number of functioning heritage hammams was found by previous research, in Morocco, the provision of sufficient hammams' facility space is required to build new residential neighbourhoods by the local planning regulations. Each hammam receives an average of one hundred clients daily and the same hammam operates different daily time shifts for men and women, employing teams of female and male staff at different times of the day as well as staff working in the furnace area. Therefore, improving internal conditions can have a significant accumulated impact also on the health and well-being of Moroccans who regularly use the hammams.
This project seeks to facilitate the acceleration of ecological transitions in Moroccan hammams (both heritage and newly built ones). To this end, networks of key regional stakeholders in each of Rabat, Fez and Marrakech will be established, by creatively engaging in the communication and co-production of integrated strategies for coordinated cross-sector actions for: energy transition, enhanced indoor conditions (i.e., health, safety, and well-being) for workers and users, and responsible water consumption and recycling.
A number of technical solutions exist to tacle energy issues, ranging from bespoke improved furnaces (locally produced by the Moroccan Agency of Energy Efficiency) to high-efficiency, minimum pollution boilers, using locally produced bio-mass products (e.g., residues from olive or Argan oil presses) as well as more sophisticated hybrid systems combining water solar heaters and high efficiency biomass boilers. Improvements in hammam workers' and users' health, safety and well-being in the hammam spaces can be achieved by introducing as much natural daylight and ventilation as possible, reducing the risk of fire and accidents (previous studies on hammams identified a lack of daylight in the bathing spaces, as the original vernacular daylighting system had been made redundant). Additionally, a reduced water consumption and recycling can be fostered by supporting its responsible use with efficient water drainage and recycling systems.
This project aims to foster equitable access to sustainable development, via enhanced health and well-being, clean air, sustainable water usage, affordable, reliable and sustainable energy consumption in Morocco, but also seeks to set an example for other North African countries. It is supported by six non-academic partners, consisting of National Governmental and Non-Governmental organisations, one International Development organisation, a local biomass cooperative and a local producer of bespoke biomass boilers. Various un-coordinated attempts were made by both National and International Renewable Energy and Energy Efficiency organisations to facilitate energy transitions in the hammam sector. These organisations include the AMEE, the German GTZ and the French Development Agency (AFD) with GERES . However, it is estimated today that only 67 out of the 12,000 hammams have made progress in fuel-switching: a very slow progress despite themany national and International efforts.

Strong working relationships with different stakeholders in Morocco are key to the success of the project, so it benefits from the long-term collaboration of the Project leader with local stakeholders in previous applied research (e.g., development of retrofitting strategies for daylight in hammam buildings, integration of an innovative solar ring providing off grid solar powered LED lighting for the hammam bathing spaces).
Cardiff University
(research lead)
ENAM
(academic partner)
Funding body
AMEE
(partner organisation)
Cooperative ISTIJMAME WARAHA
(partner organisation)
Architecture and Development
(partner organisation)
Federation of hammam owners and managers Morocco
(partner organisation)
ICT Environment
(partner organisation)
Architect Rachid Haloui
(project partner)